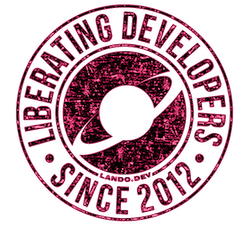 With your direct contribution we can cover infrastructure costs, compensate our team of developers, fix bugs, sponsor evangelists, provide community support, build new features and most importantly continue to spread our message of freedom, justice, beauty and truth to the far reaches of the internet.
If that's not reason enough we recommend you check out the following:
We're down to keep solving DevOps and with your help we can.
We prefer you sponsor through GitHub Sponsors due to their lack of fees and current offer to match sponsorships up to $5,000. This ensures that your sponsorship dollars have maximum impact. However, if you prefer alternate sponsorship routes we also have pages on Patreon and OpenCollective.
We also highly recommend you join The Lando Alliance if you haven't already. If you decide to do that first you will have an opportunity to sponsor after you sign up. If you don't then choose a plan below!
support

get better community support
bugs & features

get more bug fixes and features
shoutout

get a shoutout on twitter and anywhere else we list sponsors
swag

get a yearly surprise swag benefit be it shirt, mug, hoodie or other
advertise

get your logo featured anywhere we list sponsors
market

get on demand retweets of your content and an initial twitter shoutout
early access

get exclusive early access to new features
surveys

participate in quarterly surveys to help us prioritize new features and bugs
advertise

get prominent logo placement of your choosing on our websites and digital marketing
market

get on demand retweets of your orgs content and an initial twitter shoutout
connect

get a private slack channel and regular meetings with the lando team to plan out your needs
tailor

get dedicated hours from the lando team for bugs, features, training or other services
Join our great list of sponsors
key
partners
allies
heralds